UK Chancellor visits Quantum Motion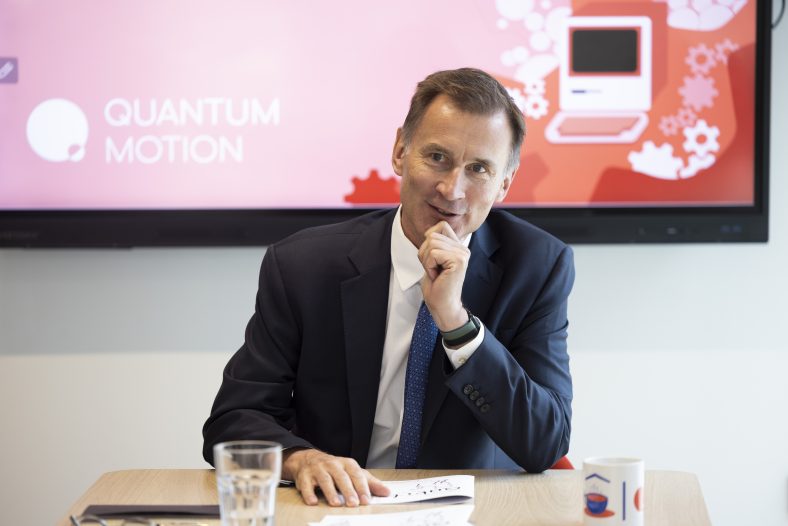 London, UK. 10 July 2023 – UK Chancellor of the Exchequer, Jeremy Hunt, today visited Quantum Motion's London laboratory prior to his first Mansion House speech. In his speech he will reveal plans to release billions of pounds from British pensions to help fund early-stage businesses in sectors like quantum tech, life sciences, and fintech.
On his visit the chancellor chatted with our co-founders Professor John Morton (UCL) and Professor Simon Benjamin(University of Oxford), about our approach to building a quantum computer and how Quantum Motion has grown since 2017.
During his visit to our central London lab, the chancellor met with staff to discuss the Tresurary's plans to unlock British investment for fast growing British firms. After, he joined the team in our labs to load a puck into one of our dilution refrigerators, and learned how to wire bond one of our Bloomsbury chips to a PCB.
Hunt said: "We're in a global race for companies like Quantum Motion, and we've developed a quantum computing strategy to help us win it – our plan to be the world's next Silicon Valley. Everyone wants a head start on these industries of the future, but this is the stuff Britain genuinely excels at – high tech science, fizzing out of our universities & labs."
About Quantum Motion
Quantum Motion is developing a revolutionary technology platform; not just a qubit, but a scalable array of qubits based on the ubiquitous silicon technology already used to manufacture the chips in smartphones and computers. The company is developing fault tolerant quantum computing architectures that are compatible with CMOS processes. Fault tolerant quantum processors will support the most powerful quantum algorithms, targeting solutions to currently intractable problems in fields as diverse as chemistry, materials science, medicine and artificial intelligence. The company employs 40 people, comprising specialists in quantum theory, engineering and software.
Media Enquiries:
media@quantummotion.tech