Quantum Motion Raises £42 Million Investment Round Led By Bosch Ventures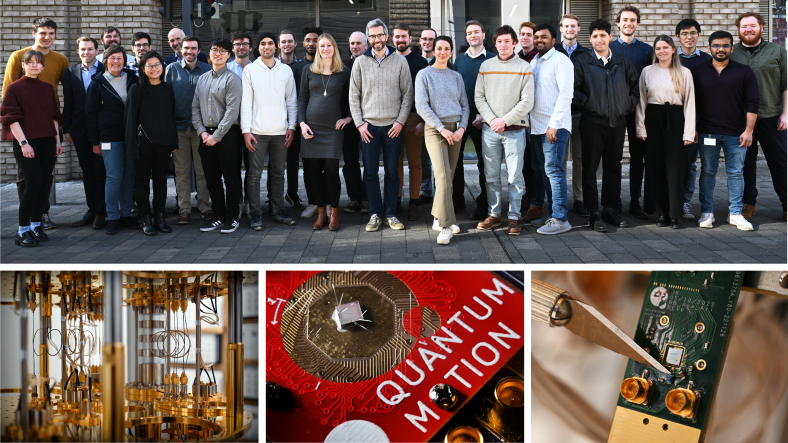 London, UK. 21 February 2023 – Quantum Motion, a UK-based quantum computing scale-up founded by Professor John Morton, UCL, and Professor Simon Benjamin, Oxford University, has raised over £42 million in equity funding from some of the world's leading quantum and technology investors. The oversubscribed round is led by Bosch Ventures (RBVC) and joined by Porsche Automobil Holding SE (Porsche SE) and British Patient Capital. All existing investors from earlier rounds (Oxford Science Enterprises, Inkef, Parkwalk Advisors, Octopus Ventures, IP Group and NSSIF) are again participating. This is one of the most significant raises in UK quantum computing and allows Quantum Motion to accelerate its development of silicon quantum processors by developing deeper ties with its manufacturing partners and trebling the size of its central London headquarters.
Quantum computers offer an opportunity for transformative computing power with the potential to disrupt sectors ranging from energy and pharmaceuticals to finance and logistics. Quantum Motion's vision is to develop scalable quantum computers by harnessing highly advanced silicon transistor manufacturing processes. Over the last two years the company has made a series of peer-reviewed and record-breaking achievements that underline how silicon could be the fastest, most cost-effective and scalable way of producing the millions of qubits that are needed to create fully-functional, fault tolerant quantum computers.
Achievements and Milestones
Isolated a single electron in a silicon transistor and shown that its spin retains its state for a period of up to nine seconds

Achieved a world-record measurement of quantum devices made on a silicon chip – reading 1024 quantum dots occupying an area of less than 0.1mm

2

within an industry-leading 12 minutes

Demonstrated mass manufacturing of quantum processors on silicon – a 3x3mm

2

'Bloomsbury' chip – using the same mass production processes used in standard electronic processor manufacturing

Opened a multi-million pound lab in central London, which is the most substantial low-temperature facility of any UK quantum company to date
Quantum Motion's latest funding round brings the total raised to £62 million. The company has previously raised over £20m in equity and grant funding from the UK and EU and existing investors which have supported the company through its early-stage work and growth, enabling it to hit a sequence of milestones that demonstrate a clear path towards building quantum computers. It has designed and validated integrated circuits capable of generating, routing and processing signals at deep cryogenic temperatures, operating down to a few tenths of a degree above absolute zero. Recent demonstrations such as the mass characterisation of thousands of multiplexed quantum dots fabricated in a tier one foundry have further underlined the company's advantage.
James Palles-Dimmock, CEO of Quantum Motion, said, "The support of leading technology investors enables us to realise our vision of a quantum computer built using standard foundry processes. This support, along with the continuing UK national quantum programme and European initiatives, provides a step-change in our capabilities. We have assembled a world leading team and with the funding and support in place, we are ready to scale and deliver on our vision."
Investor quotes
Ingo Ramesohl, Managing Director, Bosch Ventures, said, "CMOS based quantum computing leverages on today's sophisticated chip manufacturing processes and fabs. Quantum Motion has demonstrated that it can take quantum theory out of a lab into the real world to create a scalable path to a quantum future. We're excited to join the company and break new ground in the years to come."
Lutz Meschke, board member at Porsche SE, said, "The approach of Quantum Motion has tremendous potential with respect to the cost-effective scalability and wide-spread deployment of quantum computing in many industries. We are looking forward to supporting one of the world's leading teams in the development and industrialisation of this technology."
Catherine Lewis La Torre, CEO of British Patient Capital, said: "Quantum Motion blends sector expertise with a unique offering that is pushing the boundaries of quantum computing. Quantum computers will play an essential role in solving challenges that are far beyond the computational capabilities of today's super computers. We are delighted to be investing in this UK deeptech leader via Future Fund: Breakthrough as the business continues to develop cutting-edge technologies."
Sam Harman, Investor Director, Oxford Science Enterprises, said, "Quantum Motion is a powerhouse of technical and commercial talent, which has put the UK at the forefront of silicon quantum development globally. We're proud to have been part of the journey since the beginning, and thrilled to continue our support alongside a strong syndicate of new investors, as the team takes the next step towards realising their end vision."
Neil Cameron, Investor Director at Parkwalk, said, "Parkwalk, a founder investor in the UK quantum industry, is delighted to follow its investment in Quantum Motion. The team has consistently achieved and even surpassed the planned technical milestones and we are confident that their ground breaking work will only accelerate with this significant increase in funding. We believe quantum computing will transform many industries, and it is essential that the UK is at the forefront of this revolution."
Industry luminary and Chairman of the board Alberto Sangiovanni-Vincentelli said, "Building a quantum computer using conventional silicon fabrication is a powerful advantage for Quantum Motion and one that has attracted interest from a collection of high-quality investors which will help us deliver our vision. I continue to back the company strongly both in my position as Chair and as an investor in the company and look forward to guiding Quantum Motion as we start the next phase in our growth."
About Quantum Motion
Quantum Motion is developing a revolutionary technology platform; not just a qubit, but a scalable array of qubits based on the ubiquitous silicon technology already used to manufacture the chips in smartphones and computers. The company is developing fault tolerant quantum computing architectures that are compatible with CMOS processes. Fault tolerant quantum processors will support the most powerful quantum algorithms, targeting solutions to currently intractable problems in fields as diverse as chemistry, materials science, medicine and artificial intelligence. The company employs 40 people, comprising specialists in quantum theory, engineering and software.
Media Enquiries:
media@quantummotion.tech